God said…. 'Tathastu'…. a Sanskrit word meaning…." granted as you desire" … and an ambitious dream to make it a world class destination.
Tathastu (A luxury jungle) resort is located at Pench National Park and the park is spread over 785sq km and was awarded the "best maintained park" in 2011 and visitors come from across the world.
Wildlife population especially that of tigers has grown encouragingly and on an average since the last 4 years 4 to 5 tigers have been littering with 3 to 4 cubs each. The park is the paradise for 'bird watchers also with 285 species and it boasts of 45 butterflies, 33 mammal, 1200 plants and 13 Reptile species.
The Tathastu (A Luxury jungle) Resort provides great option for the mind body and soul!! One can choose options for relaxation, luxury, gourmet food, activity, sports, adventure, art, music, culture, knowledge, etc. Our upscale are well equipped accommodation option include Villas, Tree house, Caves and Tents each with its own USP.
Multi – Purpose Hall
The true description that comes to mind is multipurpose halls and it truly is … and a very attractive one at that!!
It has a hall for conference, conference meetings venues, seminars, DJ parties, wedding venues, birthday party halls, award ceremony, musical nights and New Year or any other occasion parties or functions.
The banquets reception area has a pre function lobby, designer floor and lighting, a huge attached terrace for outdoor extension of food and bar and all facilities put together make the venue other hotels envy of the facilities and venue.
The effective sound system, overhead projectors with mechanized drop down screen, flexible stage platform, podium, customized furniture lay-outing, comfortable cushioned chairs, round tables, bar set etc. provide for every possible function.
Access to the venue
Airport(s)

A) Dr. Babasaheb Ambedkar International Airport (NAG) City: Nagpur Approx. Distance: 105 km.

B) Jabalpur
Airport (JLR) City: Jabalpur Approx. Distance: 215 km.
Railway station


A) Katangi Railway Station (KGE) City: Katangi Approx. Distance: 60.5 km. Tumsar Road

B) Railway Station (TMR) City: Tumsar Approx. Distance: 82.5 km.
Bus Stand(s)
A) Katangi Bus Stand City: Katangi Approx. Distance: 60 km.

B) Tumsar Bus Stand City: Tumsar Approx. Distance: 81 km.

C) Chhindwara New Bus Stand City: Chhindwara Approx. Distance: 86.5 km.
Location Map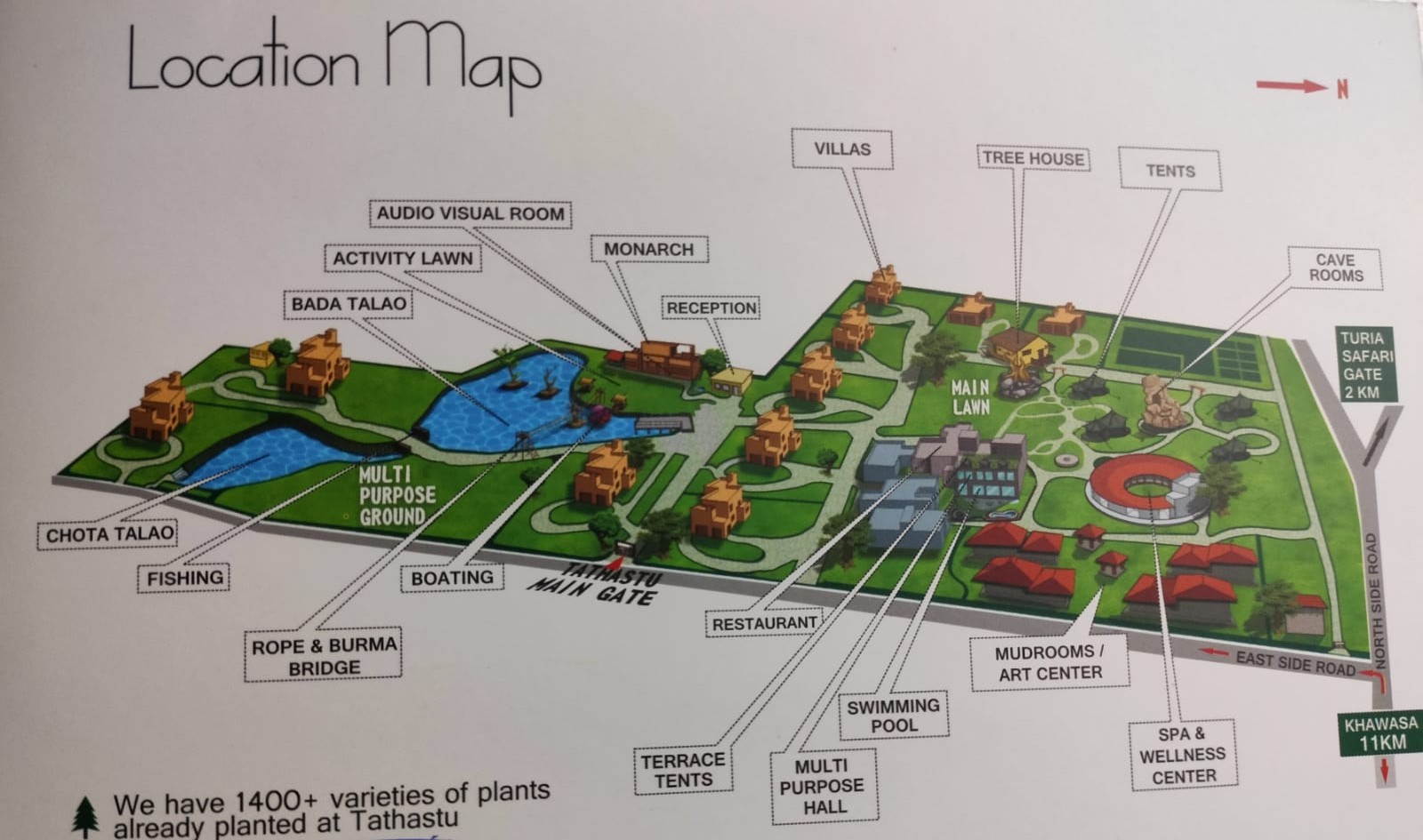 Type of rooms at Tathsatu (a luxury jungle) resort
A) Monarch's Nape
Monarch nape as the name suggests is the highest category room at Tathastu Resort. It offers a fantastic view of thick bamboo plantation on one side, with decent chance of bird sightings, especially in summer and the front view offers a grand view of the activity lawn and lake.
The highlights are the toilet which is almost as big as bedroom and undoubtedly lavish. The front veranda is a delightful place to sit early morning and late evening and it also offers a great view of our busy reception front. A separate TV rooms, small kitchen and dining area complete this very functional unit.
Away from rest of the resort rooms, this cosily tucked away adobe is the best guest looking for privacy and individual attention.
B) Cave Rooms
Big'ROCKS' have always evoked mystical feelings.
Forest rock spots like 'Dig Dola' in Kanha, 'Sheyshaiyya' in Bandhavgarh, 'Piyorthadi' in Pench or 'Phutakot' in Ranthambhore , generate image of a tiger or panther lurking in the vicinity. These rocks create a truly wild feel.
To cater to this natural instinct, these are extremely primitive rooms, carved inside a huge created rock. This is surely a first in the region and has all modern comforts. Only for humans with a tiger's hearts!
C) Tree House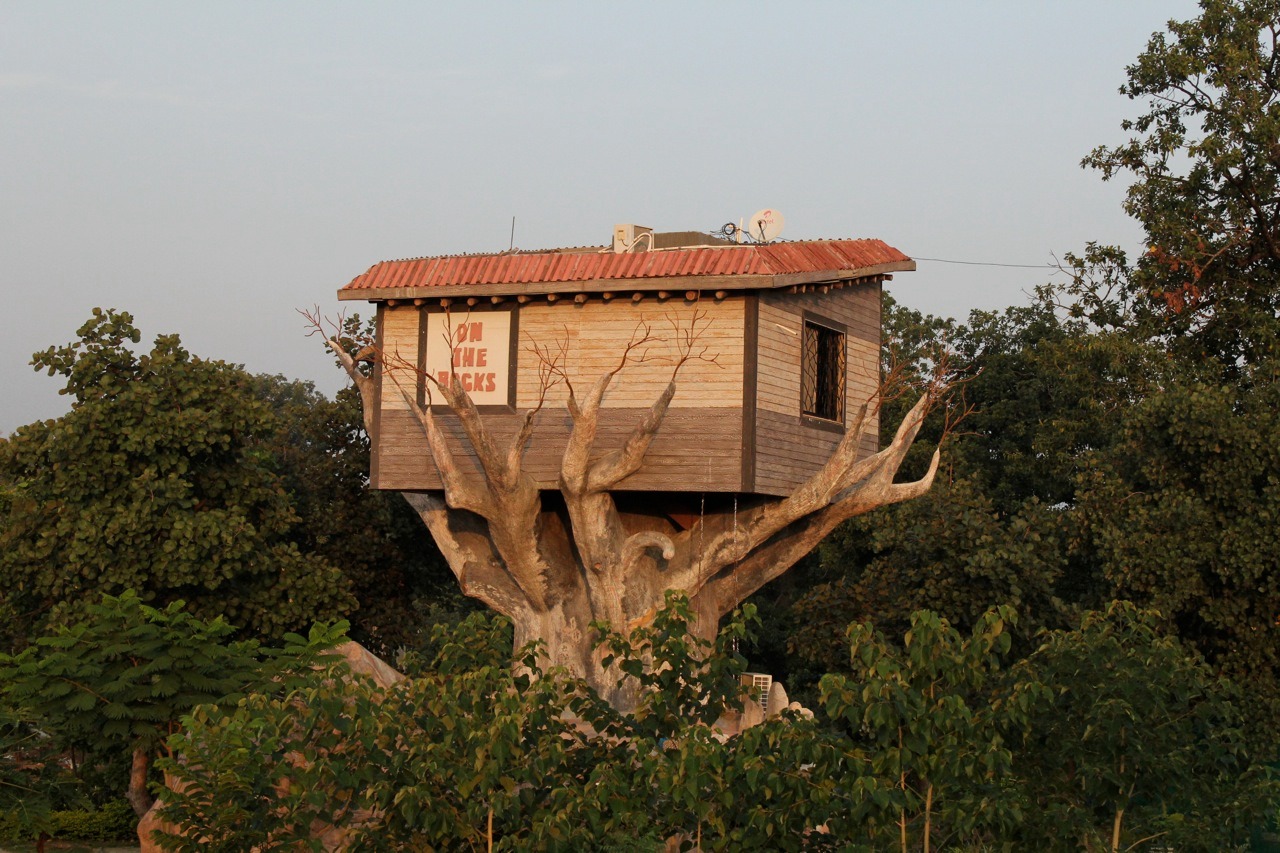 There are already fairy tales! As we remember the illustration, be it a Jack climbing the Bean Stalk, or Cinderella in her Carriage, or the shoe house. Rooms at the luxury jungle Tathastu Resort were planned to have a fairy tale image of the tree house rooms.
D) Tents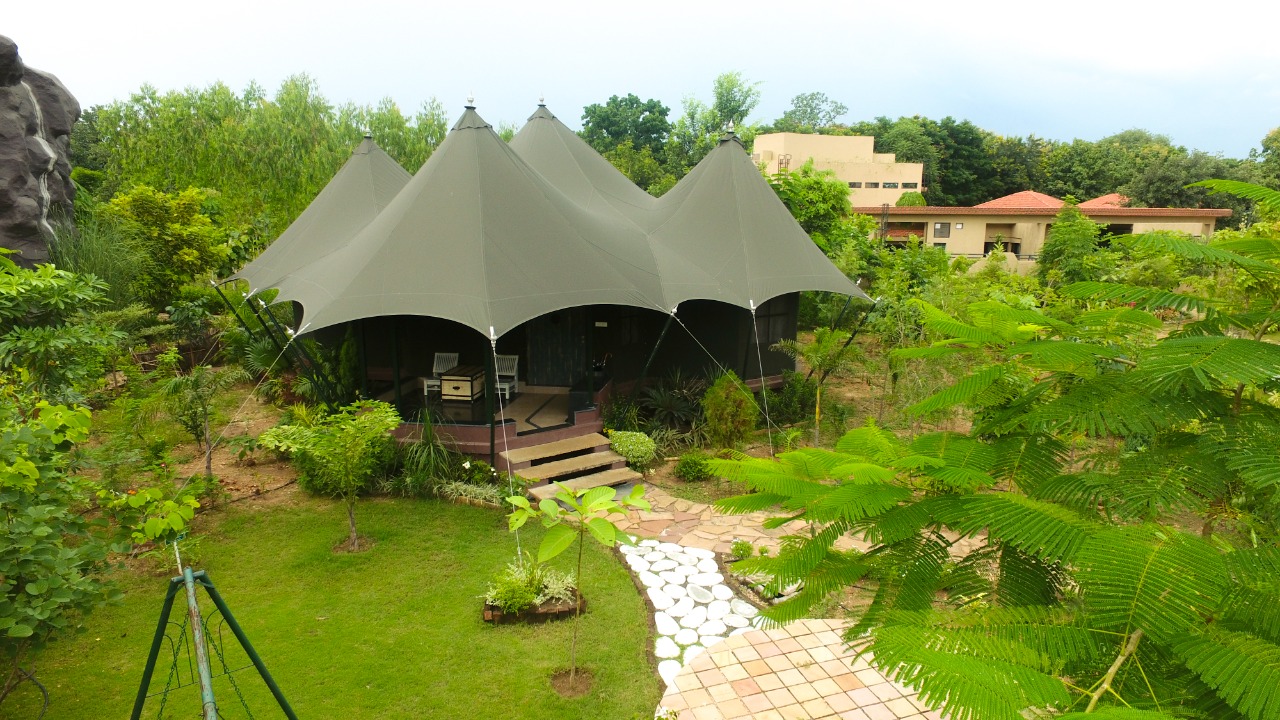 "Truly Royal" was the remark of a celebrate guest… and Tathastu resort achieved it. By far the best in the region, it has four sections (see photo with four crests) consisting of a sitting, a bedroom, a toilet and a verandah, all combined into one luxury tent.
What makes these Tents unique is the lawn, bonfire platform, 5000 sq. ft. enclosure that is private to the occupants. Named after Indian freedom fighters, these tents bring out the best in us when it comes to providing a memorable experience.
E) Villas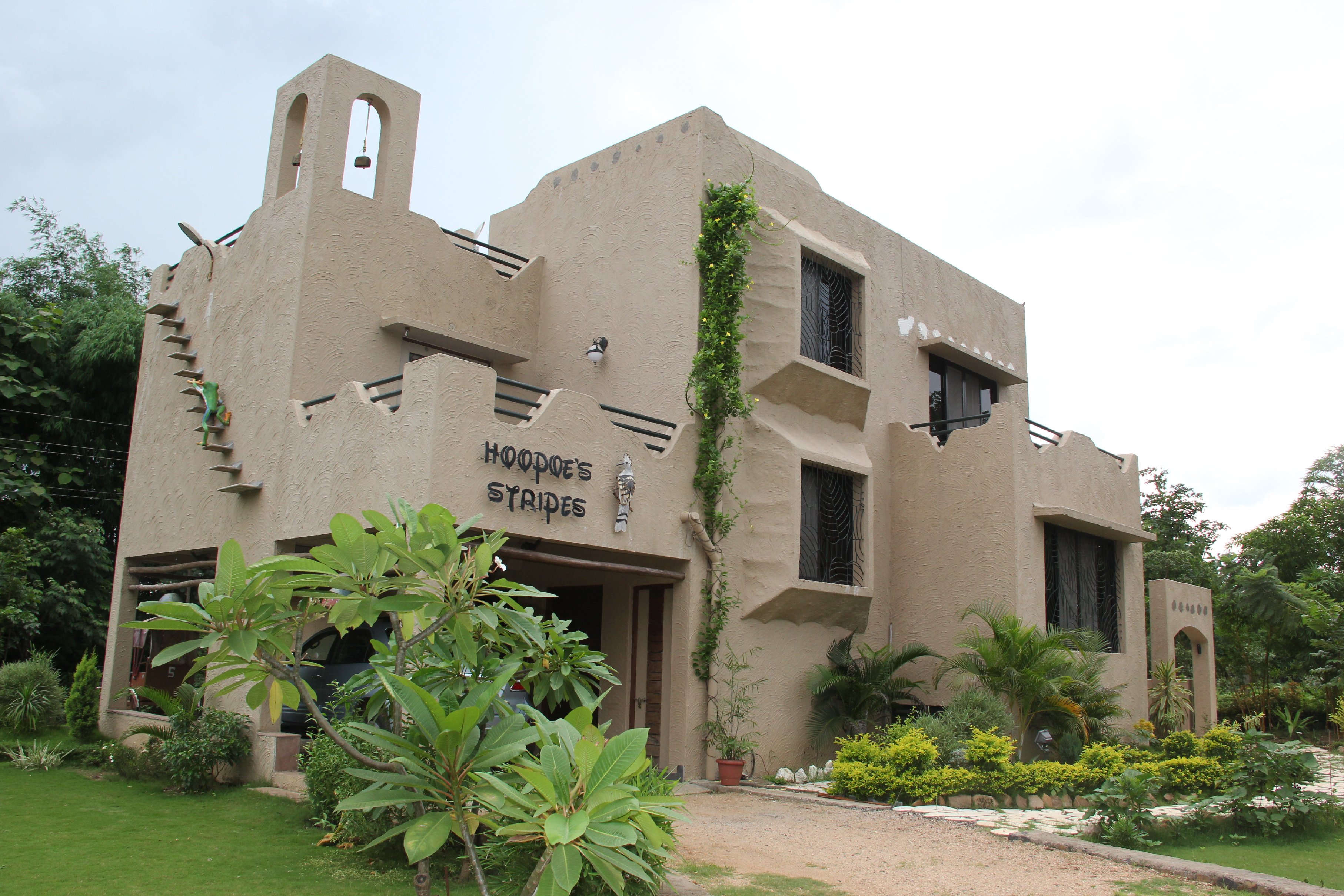 S-p-a-c-e, privacy, freedom of timing, comfort, cosiness, dedicated staff, customized food, fascinated interior and feeling of ownership. This and a little more, is what our estates are designed to give.
Highly suited for medium to larger group, any group reunions, family get-together and people to wish to holiday without necessarily mixing with others, that is the USP, and this is where one in pamper the most.
F) Mudrooms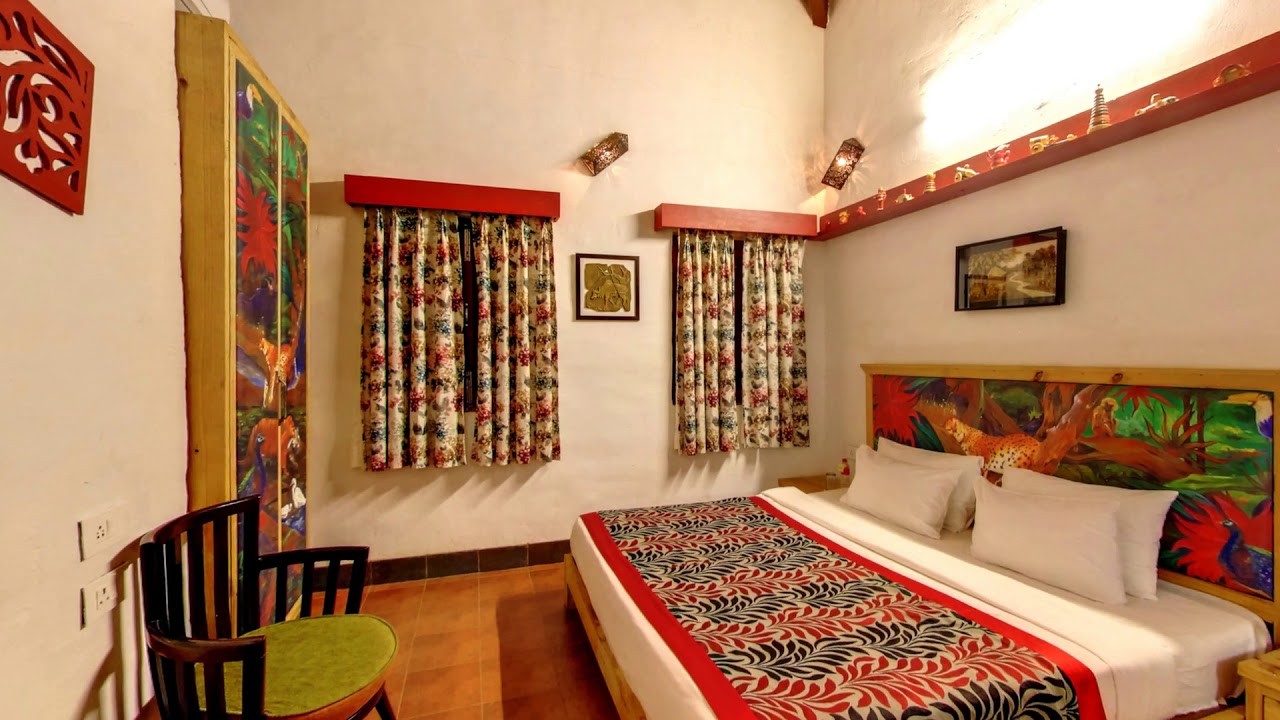 You may love these interesting concepts of staying at our art canter amongst artisans and creativity. You may personally indulge in pottery, wood carving, lost-wax a clay modelling, painting, photography, performing arts or simply enjoy watching the artisans and other guests.
The rooms are made of 18inch thick mud walls. The roof 15 to 20 high with Kavelu tiles, which will create a totally new and different experience.
Food & Dining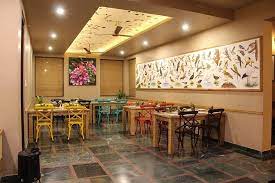 Tathastu (A jungle) resort is blessed with fantastic review about food, the old saying "Food good Mood Good" has proved so true for the resort! The preparation is very home like, less oil and prepared with the best quality ingredients. No artificial colours or flavours. Encouragement is for customization to cater to personal tastes. And there is an own bakery. Tathastu resort know how you would like to have your preparation from western Bland to 'Spicy Saoji'
Bar & Bakery
The collection includes wide range of Whisky, Rum, Vodka, wine, Beer& Breezer. A cocktails like long island iced tea' Blue Lagoon, Planter's punch, Mojito, Prairie, oyster amongst many others, Tathastu resort also offers its in house bakery with cookies, cakes and other confectioneries.
Activities at Tathastu (A Luxury jungle) resort
The Tathastu resort has multiple activity and entertainment option which cannot be matched. These include many interesting indoor games carom, archery, boating, cycling, jungle safari, night patrolling, wild life movies, tribal, spa, rain showers, private dip, kid zone, and so on.
Soon to be added activities including zip line, Burma bridge, mini tractor racing, pool table, table tennis and some more. Which can keep you busy for more than a week if you care to indulge?
There is an indoor and heated swimming pool at The Tathastu resort. An extended outdoor enclosed area allows sunbathing and lazing around the outdoor showers and loungers. A party area adjoining the indoor pool allows great evening plans and activities.
Safari Zones
S.No.
Zones
Distance
1.
2.
3.
4.
5.
6.
7.
8.
9.
Turia gate (core zone)
Khursapar gate (wildlife sanctuary)
Teliya gate (buffer zone)
Rukhand gate (wildlife sanctuary)
Wolf sanctuary (Night safari)
Single seat safari on sharing from Turia
Kohka Dam & village Sightseeing 2 Hours for 6 adults
Sillari gate (core zone)
Pottery Village Pachdhar
2km
10km
36km
35km
10km
2km
5km
40km
12km
Safari Timing (approx.)
| | | | |
| --- | --- | --- | --- |
| Park safari timing | 15oct-15feb | 16feb to 31 march | 1april to 30 June |
| Morning shift | 06:30 AM to 11Am | 06:00 AM to 11Am | 05:30 AM to 11Am |
| Afternoon shift | 02:30pm to 5:30pm | 03pm to 6pm | 04pm to 7pm |
SPA & wellness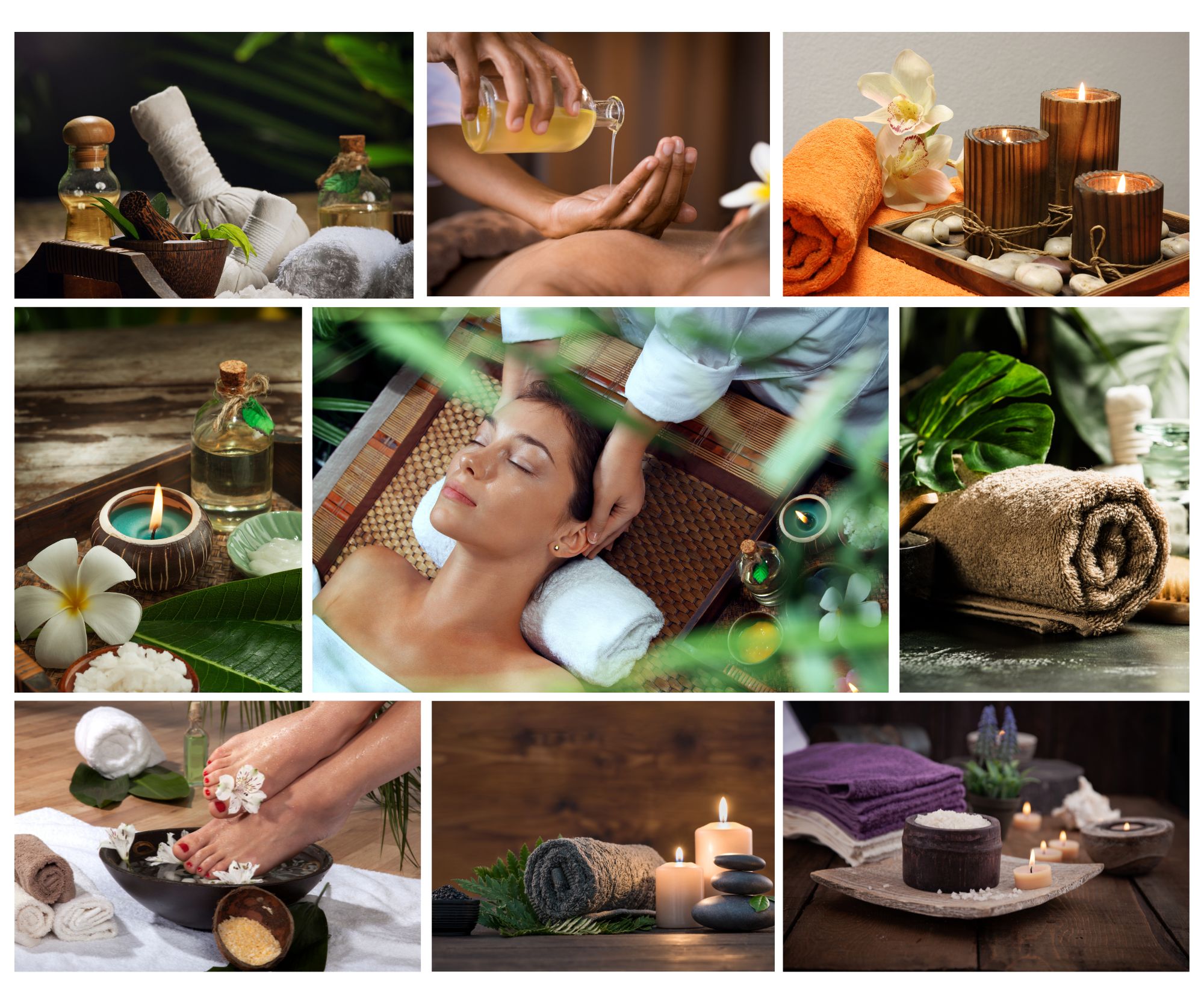 Leisure and cosmetic packages for simply relaxing for your spouse and you…
Therapeutic, Ayurveda, Aromatic packages etc. to relieve your body and mind…
Yoga, Pranayama, Meditation, Mantra Healing & Spiritual therapies to heal your being…
Art training centre
The master craftsmen trains the local villagers in various art fields. The resort gives inputs in design, raw material, production and finally marketing to the guests
Metal work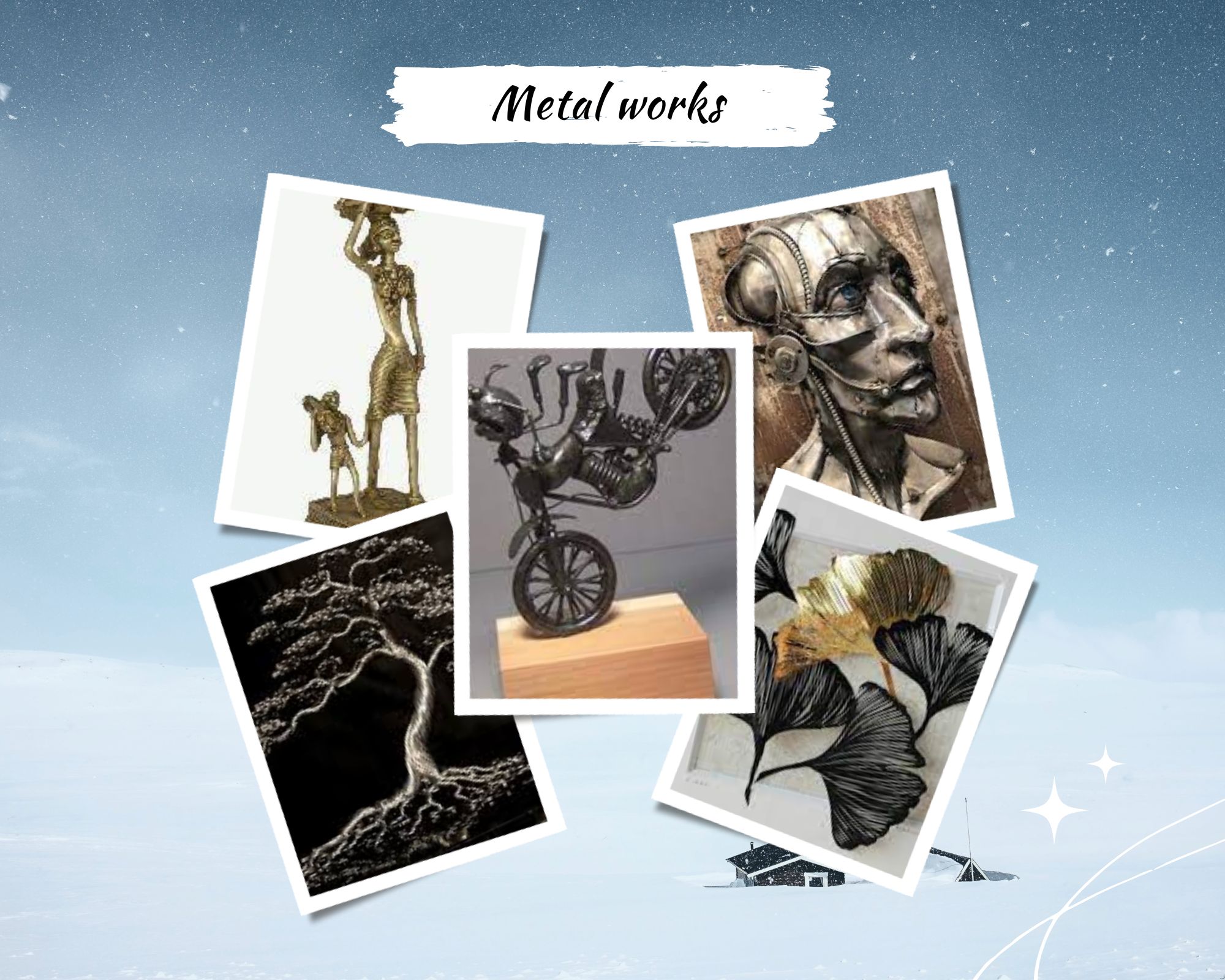 Pottery, wood carving, bamboo work, clay modelling, irons Handicrafts, Brass Handicrafts and painting in different mediums!! All under one roof! These are the strongest area of activities in the art canter.
Paintings
Villagers are trained as willing to learn. They are converted into artisans and encourage them to make an intervention with continued effort.
Pottery
You can be also a part of these activities too. Spend few hours or a few days to create something out of nothing and with the help of our trained artisans experience the joys of creativity. There may be many of you, who think that you can not to do it yourself and yet you have no ideas. Well!! You can still create. Explain your thoughts and ideas to our artisans, experiments and see them get convert to reality.
Brass
If any of you wish to come for extended stays for activities, then please do enquirer about the special offers at art canter for you.